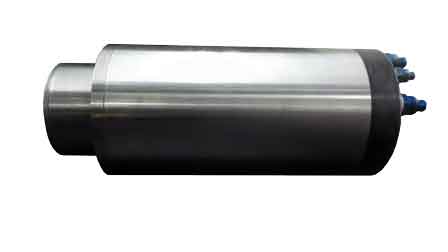 GMN TSSV120 Spindle Repair
CHALLENGE
GMN TSSV-120, 42,000 RPM motorized grinding spindle, oil/air mist lubrication, quill pilot
This spindle had axial end play incoming, indicating a loss of preload. The shaft tooling pilot had very high runout (>36µ) and the pilot face was chipped. Our internal evaluation showed contamination with grinding swarf. Also, the rear ID of the main housing where the ball cage locates was egged & oversized with dings from the balls because the slide fit was so loose.
SOLUTION
We completed a grind, chrome plate & finish grind of the spindle shaft to restore the tooling interface to top condition. We also undertook a G/P/G of the rear housing ID to remedy the wear and damage which contributed to the overall failure of this spindle. The spindle was reassembled with new high-speed ceramic bearings, o-rings & assembly screws and then run up and balanced in our test room.
RESULT
Even though the TSSV has been replaced in the GMN grinding spindle line, we enabled our customer to avoid paying top dollar for the newer model. Their rebuilt spindle with all new internal rolling elements and all critical dimensions restored will perform at peak efficiency.