Brown & Sharpe 824 Spindle Repair
The Brown & Sharpe 824 Micromaster is a hydraulic surface grinder equipped with a 5 hp spindle that operates at up to 1,800 rpm.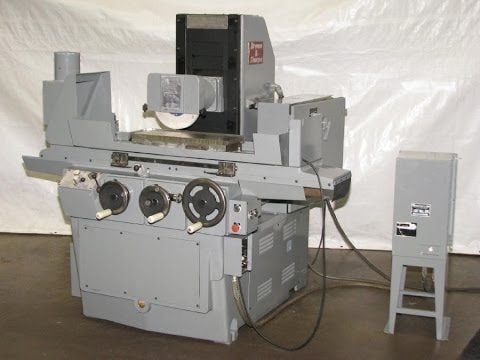 CHALLENGE
Our customer reported noise during machine operation, and they suspected the bearings in their spindle were worn. Upon initial inspection, the spindle had significant axial end-play, and the front shaft nut was loose and severely damaged. During breakdown and evaluation, the spindle housing was discovered to be contaminated with black sludge, and front bearing #1 had suffered catastrophic failure.
A full dimensional analysis of all critical components revealed that the OD taper on the wheel hub was worn with unacceptable runout of 4µm. No other significant dimensional deviations were noted on the bearing journals,shoulders, and housing bores.
SOLUTION
All original parts to be reused for this repair were thoroughly cleaned and refurbished. This repair required fabrication of a new front shaft nut (pictured below). Finally, a kiss grind was performed on the wheel hub OD taper to address runout.
All bearings and assembly screws were replaced with new hardware. This quick-turn repair passed a rigorous quality inspection before being shipped back to our customer.
RESULT
Every Northland Tool repair is covered by a comprehensive 1-year warranty.
<