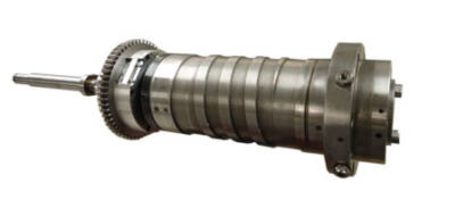 Kitamura Mycenter H-400 Spindle Repair
The Kitamura Mycenter H-400 is a CNC horizontal machining center with a two pallet changing system and 4th axis capabilities.  It comes equipped with an oil mist lubricated and gear driven spindle capable of running up to 10,000 rpm.
CHALLENGE
When this Kitamura Mycenter H-400 spindle arrived at Northland Tool and Electronics we completed a full breakdown and evaluation.  Upon inspection, we found that the front bearings failed from contamination.  We then completed an inspection of all critical dimensions (bearing journals, housing, taper, etc.) and found that the taper was worn and would need to be addressed.
SOLUTION
The following actions were performed on this Kitamura Mycenter H-400 spindle:
Clean, inspect overall dimensions
Replace all bolts and o-rings
Replace bearings
Kiss grind the taper
RESULT
After reassembly of all components, adjusting bearing preload, and undergoing break-in and testing procedures, this spindle passed our final quality inspection before being returned to our customer with a 1-year warranty.