Ceramic Bearings vs. Steel Bearings: Your Complete Guide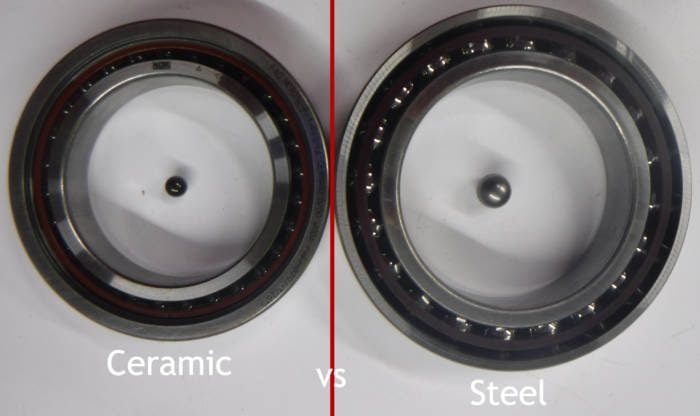 The Importance of Bearings
Inside each spindle is a set of ball bearings that must hold very tight tolerances, withstand extreme conditions, and also last for many years. To accomplish all this, there are different types of bearings manufactured for very specific applications.
Two variations of ball bearings that inspire a lot of questions are ceramic vs. stainless steel. At Northland Tool & Electronics, we get asked quite often if we can "upgrade" steel bearings to ceramic.
Ceramic and steel ball bearings are very similar in design. The contact points, inner and outer dimensions, and thickness of steel and ceramic ball bearings are the same. The only noticeable difference in design is in the ball material — ceramic or steel.
The most significant differences between the two types are apparent in their performance and longevity — read on for details.
Ceramic Bearings vs. Steel Bearings: Key Differences
Friction:
Ceramic balls are rounder, lighter, harder, and smoother than steel balls due to their lack of porousness. This reduces friction as well as energy loss, allowing your equipment to run more efficiently (and for longer) with ceramic ball bearings. Because of their relative smoothness, ceramic ball bearings require less lubrication than steel bearings.
Corrosion:
Steel balls will corrode over time, even with perfect lubrication, while ceramic balls do not corrode. In fact, ceramic hybrid ball bearings may last up to ten times longer than steel bearings when it comes to corrosion.
Bearing Races:
Ceramic balls have a much lower elasticity than steel balls, which is important to keep in mind when considering an upgrade to ceramic bearings. If you experience heavy spindle loads or spindle crashes, ceramic balls are more likely to cause damage (brinelling) to the bearing raceways. Over time the dents in the raceways grow larger and eventually lead to spindle failure.
Conductivity:
Ceramic bearings are non-magnetic and non-conductive, so they are often preferred in applications where electrical conductivity is a concern — for example, if you have an electric motor controlled by a variable frequency drive.
Precision:
When it comes to precision, the ABEC ratings of the spindle bearings we use are high enough that the difference between ceramic and steel bearings is minimal. The sole difference is that ceramic bearings will not thermally expand as much as steel bearings, and so will not generate as much heat at high speeds or have as much measurable thermal growth.
Cost:
This is typically the biggest difference between ceramic and steel bearings. Ceramic bearings are, on average, are 50% more expensive than steel bearings. As such, ceramic bearings are not always a cost effective improvement over steel bearings.
When to Choose Ceramic Bearings vs. Steel Bearings
Ceramic
Ceramic bearings are usually considered for a spindle application in the following circumstances:
A speed upgrade is needed
Applications in which high loads, high speeds, and extreme temperatures are factors
To modify the spindle to add additional axial and radial stiffness while maintaining its speed capacity
In conjunction with a lubrication change to keep the speed capacity and remove oil mist systems
When electrical conductivity is an issue
Steel
Steel bearings are considered for a spindle application when:
Cost is a deciding factor
Faster turn times are a priority
The customer's application requires the elasticity of steel bearings
Whether you're looking for a replacement or an upgrade, the team at Northland Tool is always happy to discuss your bearing options. With over 40 years of spindle repair experience, we are fully equipped to answer any questions you have. Give us a call or send us a message today, and someone will be in touch shortly.