Delaying Spindle Service Causes More Damage, Costly Repairs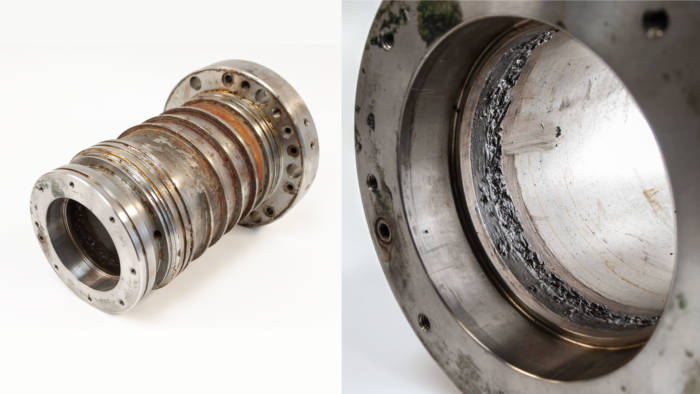 Running this spindle too long caused deformed ball bearings and damage to the outer race
Damage to the outer race is consistent with prolonged operation after spindle exhibited initial signs of needing to be rebuilt  
Every spindle rebuilt by Northland Tool is backed by a 1-year warranty on parts and workmanship
Over 2 years in the making
A customer reached out to us over 2 years ago with a complaint that their spindle was starting to get noisy. We provided an estimated cost of $5,000 to rebuild. At that time, this manufacturer was in the middle of a big production run and did not have the ability to schedule downtime on the machine in order to have the spindle rebuilt.  The customer decided to continue to operate the spindle and they agreed that they would send it in for service as soon as they could.
The damage has been done
We heard back from this customer in October 2019 after the spindle completely failed and would not run in the machine. The customer sent the spindle for us to evaluate and provide a price quote. Upon inspection, we discovered that, in addition to failed bearings showing signs of contamination, there were multiple points of wear on the spindle shaft and housing that needed to be restored with hard chrome-plating using a grind-plate-grind (GPG) process. The rear journal of the shaft and the two journal shoulders, as well as the HSK taper and the spindle face measured with high runout, and the grippers showed signs of uneven wear. The cost of the work scope required to restore this spindle started to add up quickly.
Too expensive to rebuild
Our final quote to rebuild the spindle was $11,400 – over double the cost our original estimate given 2 years earlier. Unfortunately, this was not a cost-effective solution for our customer and they decided not to rebuild with Northland Tool. Instead, they were lucky enough to find a replacement spindle elsewhere at a cost similar to our original estimated rebuild price of $5,000.
Lesson learned
To minimize machine downtime and mitigate repair costs, always monitor your spindle health, and rebuild at the first signs of failure. Noise and elevated temperatures are the first symptoms that a spindle is nearing end-of-life. If you're unsure whether your spindle needs to be rebuilt, call Northland Tool and we'll be happy to advise you. We can also provide an estimated repair cost based on previous models we've rebuilt – click here to request an estimate.
Proactively scheduling machine downtime for a planned spindle rebuild is ideal, but not always realistic depending on the circumstances. Had our customer rebuilt the spindle sooner, they would have saved time and money in the long-term. And with our expedited turn-time option, this spindle could have been rebuilt and returned to service within 4 business days. Because of the additional wear from extended spindle use, this repair ultimately would have required significant dimensional work, which translates to longer lead time and a much higher cost.
The best way to stay ahead of spindle issues is by adopting a predictive maintenance program, which allows machine operators to monitor their equipment over time with vibration analysis to predict failures before they happen. Watch for expanded vibration analysis services from Northland Tool in 2020. Stay tuned…