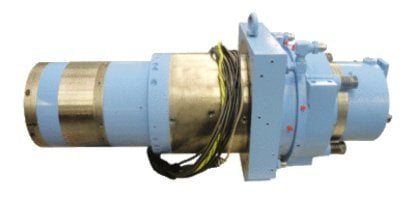 Toyoda FA400 Spindle Repair
The Toyoda FA400 is a CNC horizontal machining center.  It comes fitted with an oil mist lubricated and stator driven spindle capable of running up to 14,000 rpm.
CHALLENGE
This spindle arrived at our facility after having been completely disassembled by another spindle rebuilder. In this scenario, it is often extremely difficult to determine the exact cause of failure. Add to that the inability of our customer to provide us with a spindle drawing and parts list and you have a bit of a challenge on your hands, but the technical staff at Northland Tool was up to it.
The rear roller bearing had failed in this Toyoda FA400 spindle, though we also noted that the 125mm front housing bore was worn out of round +8/+25µ (ISO = ±9µ) where one of the front tri-set of angular contact bearings was located. We also noted that the tooling taper ID had been previously plated, and that the chrome was chipping out on the large diameter. The tool retention gripper fingers and the encoder sensor had significant damage, and the customer did not provide various shaft and drawbar keys, nor did they send either half of the rotary union.
SOLUTION
We performed a grind, chrome plate, and finish grind of the shaft tooling taper and the front housing bore to address the dimensional deficiencies we noted during our evaluation. After a thorough cleaning of all the other spindle components, we reassembled the spindle with all new bearings, bellevilles, grippers, encoder sensor, keys, seals, o-rings, and assembly screws. Tool retention force was checked and found to be correct.  We advised our customer to replace both sides of the rotary union prior to reinstalling the spindle in the machine.
RESULT
After reassembly of all components, adjusting bearing preload, and undergoing break-in and testing procedures, this spindle passed our final quality inspection before being returned to our customer with a 1-year warranty.