Matsuura ES-450HII Spindle Repair
The spindle was set up from Matsuura for high speed milling at 15,000 rpm but the rear roller bearing installed by the last person to rebuild the spindle was rated for a top speed of 11,000 rpm.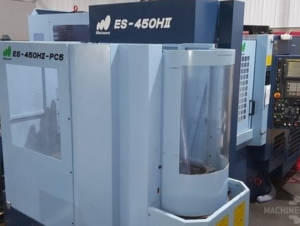 CHALLENGE
This Matsuura ES-450HII spindle arrived seized to our facility.  Upon inspection, we found that the rear roller bearing had catastrophically failed as the inner and outer races were cracked.  This was found to be caused by the rear roller bearing was rated for a max. rpm of 11,000, the spindle is capable of running up to 15,000 rpm.  It was also noted that the drawbar force was below the customer's standard for a Big Plus taper. It had 1550lbs of force incoming, the customer requires a minimum of 1800lbs.  We also saw that the spindle was changed from grease injection to grease pack previously.
SOLUTION
The following actions were performed on this Matsuura ES-450HII spindle:
Clean, inspect overall dimensions
Replace bearings with a triplex to make it more rigid, speed will decrease to 12,000 rpm
Replace bellevilles, orings, and screws
Machine the spacer to allow the triplex
RESULT
After reassembly of all components, adjusting bearing preload, and undergoing break-in and testing procedures, this spindle passed our final quality inspection before being returned to our customer with a 1-year warranty.